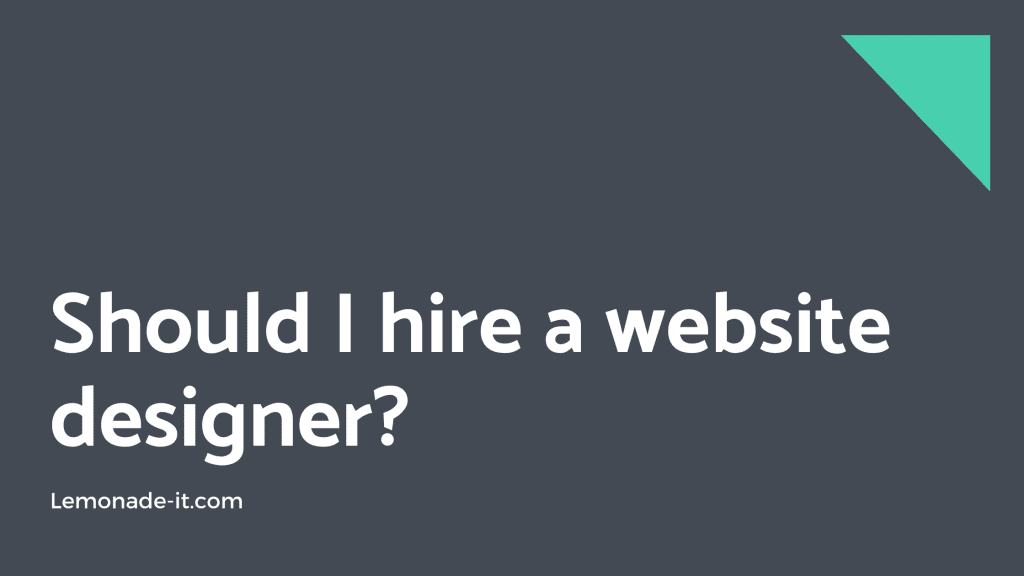 Should I hire a website designer? Very often we find ourselves perusing through random websites on the internet, some are of interest to us but more often than not, we have landed on a site due to its aesthetic or simply because of clever engagement. What is site engagement and should one be concerned with it? Chances are if you've clicked on this article link, you've most likely decided on setting up a website for your personal or business use, but the overwhelming information on the internet is causing a slight paralysis in your decision on whether you should hire a web design company in Singapore, engage a freelancer or simply get hands-on and DIY the website personally. We've compiled a comprehensive side by side comparison on various options one would consider when creating a site from scratch, so, read on!
In-house web designer vs Freelancer
To dispel any confusion, an in-house web designer and Freelancer are both trained professionals in the realm of website creation. However, the services and expertise they offer are marginally different due to the fact that agencies have more resources available on hand, whereas a freelancer might have to source for some of the services separately.
To break it down, the role of an in-house web designer is more focused as they work with various experts on a single project, responsibilities are split and prioritised to ensure that the site is successful at launch. The web design team usually consists of a web project manager, SEO specialist, and UI designer. The web project manager would be the main source of liaison from the conception to the delivery of the site. They would assist clients in ideation and translate expectations to the developers and designers involved.
A UI designer, like Jin Design, is essentially a visual creator, they are responsible for colours, fonts, layouts, and site designs. Their main focus is on delivering user experience through aesthetically pleasing layouts. An in-house UI designer needs to be well-informed of the latest design trends and have a good understanding of the site's target demographic.
An SEO (Search Engine Optimization) specialist is someone who focuses on improving site rankings on major search engines and social media sites. The specialist's fundamental role is similar to a marketer that strives to increase sales for the brand through positive user experience and increased traffic on site.
The in-house web design team at Lemonade consists of a team well versed with page builders like Divi- a dedicated WordPress theme and visual page builder.
When it comes to freelance web designers, there are two kinds of professionals one can engage. The first is usually a front-end developer which is a professional with skills in technical web development and creates websites using themes/ templates. They are equipped in using coding languages such as HTML, CSS, and JavaScript. To visualize what they do, it is wise to think of a front-end developer as a jigsaw builder, they piece together a great, easy-to-navigate site using codes.
Occasionally, they may utilise a pre-coded theme or template but they also deal with the technical aspects, such as debugging and formatting countless rows of codes to ensure functionality on the site.
On the other hand, a freelancer could also be a UI/UX designer. As mentioned, a UI designer is responsible for the aesthetic but a UX designer, also known as the user experience designer, is a role dedicated solely for an ergonomically designed site. This is a vital part of the design process as the flow of the page has been known to be very successful for e-commerce sites and has proven to increase profits.
With thousands of websites being launched each day, users are seeking more than just information when they click on a brand's page, good sites are able to tell a strong brand story and this can be achieved with a skillful UX designer.
What to expect when you hire a website designer
Staggering one's expectations is monumental when working with a web designer, as working with either an agency or freelancer makes a difference.
The cost of working with a freelancer (See cost to DIY websites) is usually lower than that of an agencies', as there is no need to account for the cost of multiple professionals.
Some of the services one can expect would include the technicalities of setting up the site, installing a requested theme, and certain customisations. One can certainly expect a workable site to be delivered. Working with a web design company in Singapore is more comprehensive as the expert team will troubleshoot project challenges collaboratively and encourage ideation.
This is usually more efficient and clients enjoy a high level of professionalism. If the end-goal of having a customised site built is to draw in high traffic and ultimately increase sales, hiring a web design agency has advantages as there is an emphasis on internal-marketing through SEO optimization even after site-delivery. There is a high level of responsiveness from conception to delivery.
Even after site launch, one can request for site maintenance to ensure regular system upgrades. Working with an agency would usually mean being attached to a web-project manager and so you can expect expert consultation, customised design, quality built website, and detailed code inspection.
With the increasing demand for web services in 2020, it will cost at least $3,000 to about $15,000 for a fully workable website.
What are some questions you should ask your web designer
A web designer is essentially an artist, except that their canvas is the web and their tools are coding languages.
To match competencies between the project and designer, ensure that you have enquired on their previous clients and if they have done websites for similar industries or company sizes. Check out how to choose the right Digital Marketing agency in Singapore.
For a more accurate perspective, Google review is rather helpful and efficient as well.
This is to ensure that the designer's creative process and design methodology is something that you're comfortable with. Most web-users these days would browse a site on their smartphones and Lemonade's design methodology focuses on mobile-first designs, with the user's comfort taken into consideration.
To cover all the bases, it would be wise to enquire about the full specification of the website, as this would ensure a smoother flow of the built process especially if the site requires logos, texts, or images that can only be edited by an outsourced graphic designer.
Lemonade provides a full-specification documentation of your website upon conception of the project to ensure a smooth work flow from client to agency. It is vital to keep in mind to ask for the original files such as any Adobe Photoshop or Illustrator documents. This will save you a lot of hassle in the long run when you need to change a graphic design. When it comes to charges, take into account the number of edits/revisions you can do as the cost usually differs or is part of a package. Have an ideal launch date? Be sure to enquire about the designer's schedule and discuss deadline expectations with them.
Lastly, but most importantly, enquire about the maintenance after the design is complete.
Should you DIY your website?
One does not have to be a pro in web-development to DIY a website, there are now tons of easy-to-use DIY website builders such as Wix, Squarespace, Weebly and WordPress. These platforms have gained traction over the years as they provide drag and drop templates or pre-existing themes that make it easy to customize sites.
There are certain things to take note of when choosing a suitable DIY website builder, as certain platforms offer a different look and feel, and the deciding factor should be based upon the needs of the site. What kind of content are you putting up on the site? Is e-commerce crucial to the success of it? And what is your level of experience in designing a workable site?
These are great questions to ponder over before you begin as it troubleshoots the challenges you may face and saves you the nightmare of investing too much unnecessary time and effort in DIY-ing your website.
Pros and Cons of DIY-ing your website
There are 5 main features to consider before building a site and it would be great to balance out the options before making a final decision.
Cost of DIY-ing your website
Pros: Website builders are usually free or inexpensive as compared to an agency where one has to account for the overheads of the expert team.
Cons: As it is inexpensive, do not expect your site to be ad-free or well-equipped with the latest software upgrades, it would usually cost extra or be provided as part of a package the site offers.
Check out How much does it cost to DIY your website in 2020
Duration to DIY you website
Pros: Website builders are extremely simple to navigate and it is possible to create and launch the site within the same day.
Cons: The simplicity of the site attracts a huge number of users opting for a website builder and the tech support is limited, options for design modifications are reduced as well.
Style of your DIY website
Pros: Existing templates and themes are attractive and trendy, they are also easy to modify.
Cons: Not a custom template so there is a high chance the site looks generic and not so impressionable.
Technicalities
Pros: Technical features such as hosting and back-end security are provided features.
Cons: The server hosting your site might be poorly managed and could lead to slower loading times, there is not much one can do when this happens.
SEO of your DIY website
Pros: Certain SEO-features come with the site and in-site analytics are provided by the website builder platform.
Cons: For a DIY site, SEO can only be personalized to an extent and the site may constantly push you to pay additional fees for unpopular services. You should also seek expert SEO consultation to help you rank on search engines.
Other analytical tools that are important to help your company grow are also impossible to integrate due to the fact that the site hosting does not allow for much back-end access.
If you do not know what is SEO, here's a useful article to explain what is SEO and how it will help your business. Read: What is SEO?
Should I hire a website designer or DIY my website?
All in all, if you're still unsure of what to opt for, it would be useful to understand why a DIY website builder might not be suitable for you.
A DIY website builder's provided templates are unlike professionally designed ones, and yes, it may look appealing and chic but it will inevitably give off the vibe that it is a homemade site and are less attractive than a competitor's expertly designed one. Search Engine Optimisation (SEO) becomes an issue as well, as search engines such as Google prefer well-structured codes but DIY website builders tend to hide codes to make the design simple, and Google does not pick it up.
Lastly, ongoing business with positive growth would require intense site management and revisions, with a DIY website builder, this is near impossible as you're locked into a system managed by a bigger entity and over time could cost you as much to manage like a professional web design.
Here's a list of top web design companies around the world.
Just 2 steps to let Lemonade help you with your upcoming website