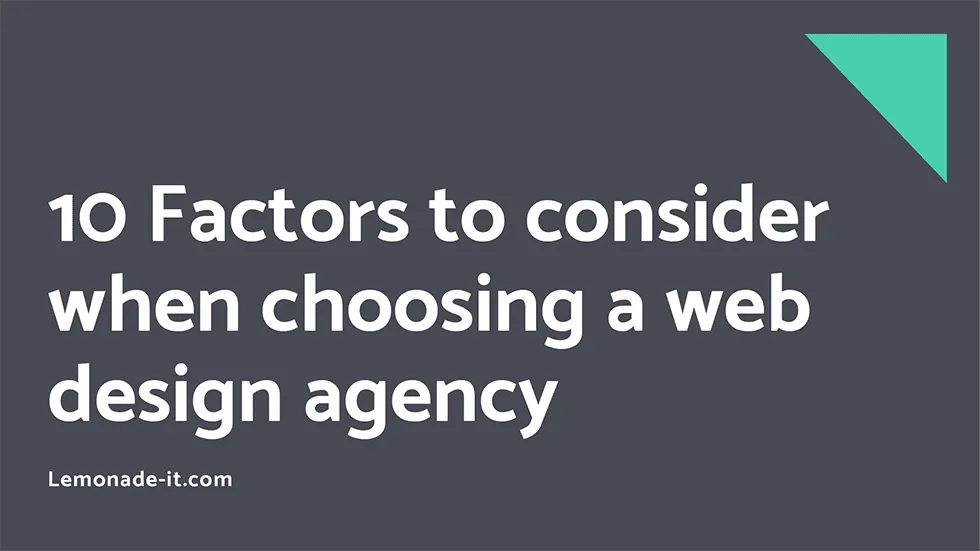 Shopping around for a web design agency can be a daunting task especially if one has never approached an agency before or had the experience of working with one. Before settling down on one , make sure that these 10 points have been vetted through and all the boxes have been checked.
Are they a boutique agency or part of a bigger firm
Boutique web design agencies are smaller firms with smaller team sizes and because of that, the overheads they have to account for are also much lower. However, due to their limited numbers, they are better able to focus on the projects that come their way as they typically are selective about the client and assignments that they accept. This makes boutique agencies a lot more adaptable to changing industrial standards and technology that they use in their client's work as the breadth of tasks they handle on a daily basis are not as wide as traditional firms. The end result is a high quality, creative website that produces desirable ROIs for clients with lower costs and a more individualised experience. Differences in internal and external communication are more apparent when passing down information in boutique agencies. As these agencies are smaller, levels of bureaucracy are toned down and work environments tend to be more casual. As compared to traditional firms, information gets passed along faster and does not require too many top down approvals before it is implemented.

What does their portfolio look like
Like any established business, the web design agency's portfolio should showcase some of their best works and experience with clients from different industries. Common ones such as
e-commerce
, business profiles, educational sites and blogs should be apparent in the portfolios. E-commerce websites are high in demand as businesses go digital after facing challenges with brick and mortar spaces in the new-normal and the agency should have the experience with online shops that can process orders and payments to facilitate sales leads.
Content management systems like blogs and hybrid brand sites with a CMS should be part of the portfolio as well as businesses that update their site with content that are on-brand are getting more common. Informational sites are one to look out for as they essentially serve as the company's directory and occasionally the industries' wikipedia. As different sites provide a different utility, taking the time to peruse the agency's portfolio can suit the site's objectives more promptly and efficiently.

In general, boutique agencies are more affordable and do provide customised web designs at a rate much more cost-friendly than traditional agencies. However, do set-out with a list of priorities that the business wishes to achieve before requesting for quotes. Things that affect the cost of a site ranges from the number of pages, search engine optimisation, content management and website maintenance. For an informational business site, using WordPress and Page Builder varies from $4000 to $6000 and comes with a contact form, gallery and email subscription. For an e-commerce site, the site development ranges from $8000 to $20000 and it comes with a customer accounting system, unlimited product categories, built-in payment gateway and more. Sites that are more heavy-duty in churning sales tend to be more costly as there are additional plugins and security features to ensure a smooth user experience Planning ahead is important as well, will the site just require basic features or is it a micro-site that is part of an on-going digital marketing campaign. All these considerations may cost more but will provide a safe buffer for site expansions in the future.
Is the web-design agency experienced in digital marketing
A well-optimised site with
great SEO rankings
and social media links paired with a landing page that is easy to navigate can generate consistent traffic. This brings us to what is commonly known in the industry as a high conversion rate site, a
high conversion rate site is vital to generating leads and sales figures for the business.
Alas, SEO optimisation is the crux to marketing any content or product online as it allows search engines to pick up on the site address and push it forward to the first page of the search engine. However, other factors such as responsive design plays a huge part in generating traffic as well. A responsive site is one that can be pro-fitted to fit any device, such as a tablet, smartphone, Ipad or desktop. A whopping 79% of smartphone users have made an online purchase through their devices and almost 10% of retail revenue now comes from e-commerce. If the site is not search engine friendly, the business is essentially losing precious user attention to a competitor that has specifically requested for responsive design.

Do they have an in-house designer
Most
professional web-design agencies
do have their own in-house designer, this expert is a full-time staff and is well-versed in user interface design as well as utilising the softwares that support their vision. Certain design agencies are actually prepared to work on projects using a pre-existing design template that they have created and stored beforehand. The only downside to this is that the client's site might not look entirely unique and memorable. However, if a customised brand design is something the client values greatly, then it might be wise to request for a mock-up beforehand. The relationship between the design team and the client is key to the site's delivery and success as the constant supply of inputs from the client has to be reverted accurately back to the designer in order for the project to be delivered on time.

Do they have experienced project coordinators
A project coordinator's job scope is similar to an account manager except that a
web design agency's project coordinator
has to be fluent in web design technology and have the required technical knowledge to translate expectations successfully from client to team and so on. Highly experienced web design project coordinators are sought after for their multi-tasking skills as they not only compartmentalise their duties effectively but they have great interpersonal skills that come into play during conflict resolution. Managing timelines and ensuring that quality of work is up to par is just one of the many soft skills an experienced project coordinator would have.

Does the web design agency plan for the bigger picture
The agency's backend access should have budgeted for allowances in the site's main skeleton for site upgrades and additional functions. For example, some clients might decide to have a content management system as part of their business directory site in the future, however, this could have been missed out in the original blueprints for the site's debut. And so, it is important for the design agency to take such possibilities into account and bring it up to the client as soon as possible. Other interactive features such as plugins, buttons and virtual reality graphics require unique softwares and not every site that is built from scratch has the bandwidth to process such heavy codes and in order to pre-empt for such an update, the design agency must provide leeways.

Just like purchasing a skincare product or making a reservation at a famous restaurant, we've all had to check for reviews before taking the leap. Especially when commissioning a project that requires quite a hefty amount of cash, it wouldn't be wise to dive in head first without sleuthing on the internet. One of the easiest ways to spot for red flags is to check for online reviews regarding their services, customer experience and portfolio overviews.
More often than not, Google reviews offer trustworthy feedback from clients and this could affect the agency's overall rating. For a quick hack, Google reviews is a great tool to use when vetting for potential agencies to work with.

Does the company have their own blog
A good web design agency has their own content management system and updates it regularly to educate their readers on the latest industry standards. As much as they are invested in their clients. Having their own blog shows that they're transparent and are willing to share industry knowledge in hopes that best practices can be utilised across the board. Moreover, a blog can actually help build trust with potential clients that are looking into options when designing a site for their business for the first time.

The longevity of a site is non-arguable, it has to be non-glitchy and user-friendly even in the long run, otherwise, it beats the purpose of having one. Before the project commences, check with the agency for maintenance packages to ensure that the site is always in tip top condition and will not pose any problems when generating leads. Once the project is delivered, enquire with regards to back-end access and request for a copy of master folders just in case the servers are down on the agency's end but there is a backup copy safely kept away elsewhere.