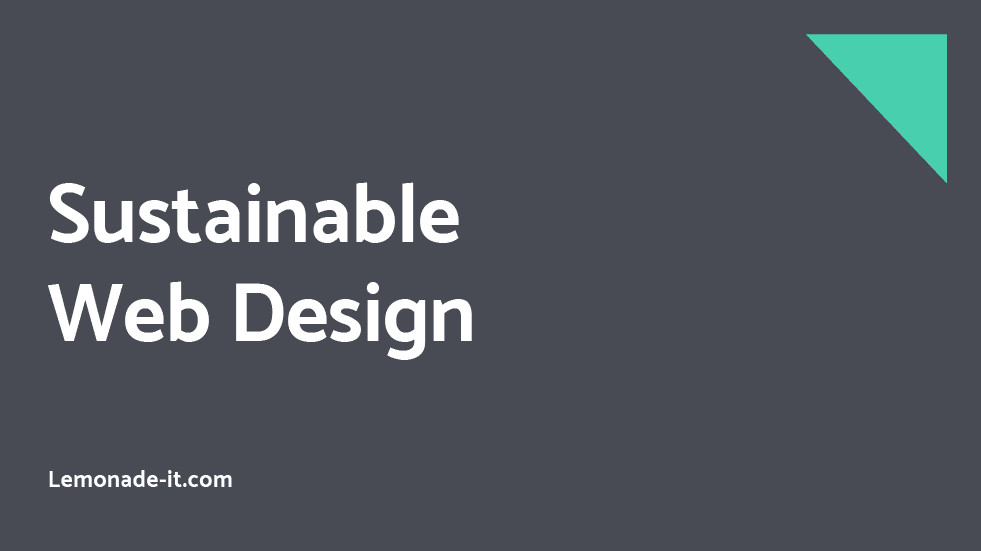 According to Siteefy (2020), an estimate of 1.7 billion websites exist in the world wide web today, and the average size of a single web page runs at 2.5MB (HTTP Archive, 2020). With more data being transferred, it also means more power is required to supply the server resources, thereby increasing the amount of energy needed; the carbon footprint we leave behind naturally increases with it.
What is web design?
Web design refers to the design of websites that are displayed on the internet. It usually refers to the user experience aspects of website development rather than software development. – interaction design

How does a badly designed website impact the environment?
A badly designed website starts with poor web design practices–from the use of non-optimal image sizes and not performing website optimisation, to how a script is being run and executed on a website; not having the proper practices and processes in place most often leads to a slow-loading website, which is not only a waste of energy, but also cause users to become frustrated, thereby losing potential businesses.
A poorly designed website also makes finding information harder for users, hence increasing the time needed to stay online to look for what they need.
Here's a list of 8 poorly designed websites in Singapore 
How does Lemonade create a sustainable web design for our clients?
Information Architecture
At Lemonade, each web design project goes through a thorough planning process, and a core component of what we do during this stage includes establishing the Information Architecture (IA) of the website.
By understanding the exit rate of the users using data obtained from Google Analytics and Heat Maps, our team plans the flow of each web page by placing the information the user would most likely look for at the top of the page, followed by other secondary information based on their importance to the user.
Tip- If you want to learn how to use GA for your business from the setup, to the analytics and optimisation, you can look into taking up a Google Analytics Course. By the end of it, you will also receive a Google Analytics Certification issued by Google. 
We also look into what a typical user journey of a website looks like, and based on our findings, implement a guideline for our designers to ensure that a user only takes up to a maximum of two hops to the information that they may be potentially looking for.
All of which helps to reduce the time a user will need to spend looking for information online.
User Experience and Mobile-first Design
Our web design process starts from the smaller screen first (i.e. mobile screen) before proceeding to designing for bigger screens (i.e. laptop/desktop screen).
Through this process, it helps to reduce the loading speed of a page when a user views the site from the mobile, as elements on the mobile screen are reduced in size and designed in a way that is easier for the user to view, thereby allowing users to find the information they need quicker. For instance, a list of portfolio projects are presented as slider view instead of singular rows, such that more elements can be shown.
Redundant elements are also removed, with only commonly-used elements for mobile are being used. For example, instead of showing an entire google map, it is replaced with a pin icon that when clicked, will be linked to the map app that exists on the user's phone.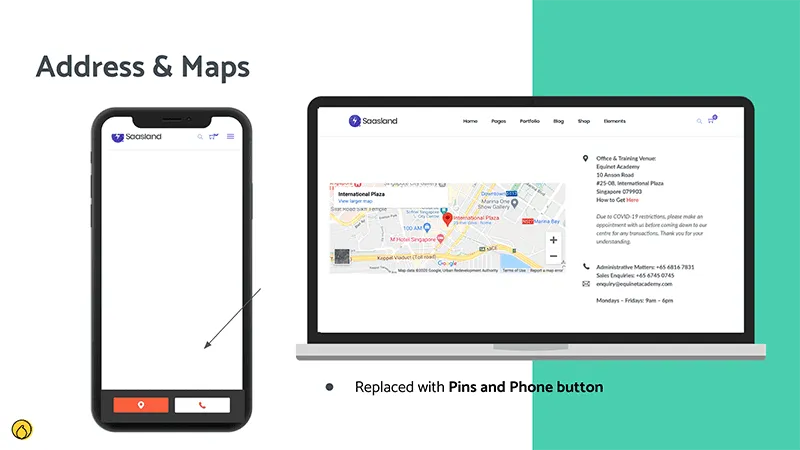 Design and user experience helps the site to reduce the resources needed to load on the website.
Site Optimization (Files and Scripts)
Like many softwares, a website is required to load multiple files, and some of these files may be redundant and could be loaded later when the user needs it. In some cases, scripts are loaded separately as each module is installed into the website separately.
Through optimisation, Lemonade looks into the suggestions provided by performance tracking tools such as Google PageSpeed Insights.
Files that are not required to load during the first loading will be moved to the footer or delayed in loading. This helps by only loading files when necessary.
Most script files are combined with each other so the number of files needed to load is reduced.
Files are also compressed to reduce the loading time of the website.
Site Optimization (Images and Graphic)
To reduce the page load, our designers follow a guideline when using images in their design.
By using optimal image sizes, the images and graphics can appear clear in most major screen sizes, yet is light in loading.
To further enhance the image quality and reduce file size, our team ensures that all images used are served in next-gen image file format (e.g. JPEG 2000, JPEG XR, and WebP). These image formats have superior compression and quality characteristics compared to their older JPEG and PNG counterparts. Serving the images using these formats means a faster loading speed while consuming less cellular data.
Other Implementations
Implementing a site-wide chatbot which allows users to reach out directly for information can further reduce the time spent on a website looking for information.
Use of Green Hosting Provider
At Lemonade, we recommend SiteGround as the hosting provider for our client. SiteGround co-hosts their server in Google's data center, which uses 100% renewable energy.
Use of Hosting Provider that have data centers in Singapore
Also, as the bulk of our customers are Singapore Businesses, we recommend SiteGround's Singapore Data Centers for their hosting; it reduces the loading time of the website (as the data takes a shorter time to travel to the users), hence saving more energy.
The hosting that we recommend also uses Content Delivery Network (CDN), which helps to distribute the website's cached content to servers around the world. This also helps to reduce the load time for audiences in other countries, as the cached version will be loaded first.

As the worlds celebrates environment day on the 5 June annually, let us take a moment to think how businesses in Singapore and the world can do their part to keep our earth healthy.
If you are still doing print ads, should you hop on to the digital journey? Let Lemonade help you on your first web design project.