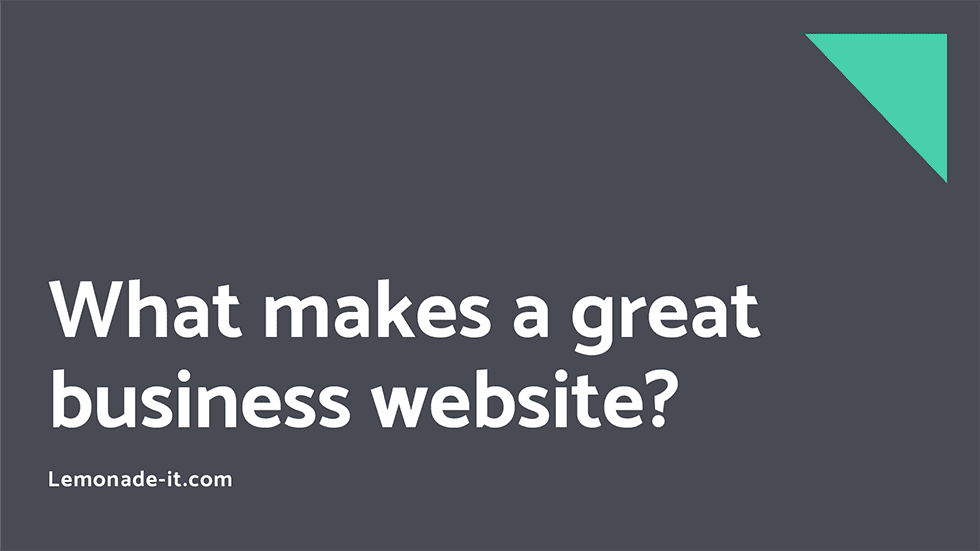 A great business website is all about establishing an online presence that services the consumers effectively and meets all of their needs. Whether it's a customer checking out a restaurant menu before making a reservation or seeking information on a product that they hope to purchase, a site is a potential client's first impression of a brand in this new economy. Before conceptualising a website, highlighting key objectives for the site is of utmost importance. Every brand's objective differs, e-commerce sites tend to focus on generating sales figures directly from the site's checkout features whereas brands hoping to increase awareness have a larger focus on the overall aesthetic and narrative flow that contributes to the user experience.

Purchase a server with good hosting capabilities
Different sites would require different loading capacities depending on the graphics, functions and plugins of the site. Certain servers are better able to cope with microsites while others require enhanced security features such as e-commerce sites that are processing transactions through credit cards and i-banking.. So what are the kinds of servers out there? There are three commonly used servers with hosting capabilities that can meet different site needs. The three commonly used ones are the shared server, dedicated server and virtual private servers.
The shared server is the most affordable option with most small businesses using this as an option for as little as $2 a month. Shared hosting means that the site is essentially managed on a server that is hosting multiple other sites and resources are shared as such. The downside is that since the site is shared, the loading capacities are reduced and if one site is ever hacked, your business site might be compromised as well. A virtual private server is another popular option, affordably priced from $20-$50 on a monthly subscription, it provides security and performance potential that is sufficient for the bandwidth of business sites. For sites with heavy capacities,, we highly recommend a dedicated server hosting plan as the physical server machine and its technology are optimised to service the server. However, it can cost anywhere from $100- $2000 a month and would be most suitable for sites with high traffic.

Have webmaster tools ready at hand
Webmaster tools such as Google Analytics, Google Search Console and ahref Webmaster are useful for tracking information regarding site traffic, conversion and bounce rates. These figures are important to determine if the site is generating traffic for quality leads and sales and are necessary for predicting data trends and to angle future marketing campaigns.
To understand how these webmaster tools are useful, we first have to understand how data plays a pivotal role in site construction. Data taken from monthly traffic includes visitors coming onto the site via links on social media or article backlinks, the numbers here reflect the amount of exposure the site is receiving and is great for measuring the success of ongoing digital marketing campaigns.
Understanding the average amount of traffic on a site could help creators understand the formula in pulling in the numbers as data trends in months with higher hits could reveal what the client demographic is interested in and what information is obsolete to them. Of course, observing figures is nothing if we can't figure out where those numbers are popping up from.
The key features to a high conversion rate includes a well SEO-optimised site coupled with high stickiness of the web pages. What forms a good SEO rate includes terms that are commonly picked up by search engines and to keep the user interested in exploring the rest of the site, the content has to be kept engaging and this is where the 'stickiness' comes in. To find out how frequently visitors are leaving the site after the first click , check on the 'bounce rate' a good figure would be between 40%-50%. A combination of all these data is an indicator of a healthy conversion rate, an industry term that measures the amount of traffic against the number of sales received by the site. Sites that rank highly on Google and other search engines usually have great conversion rates.

Intuitive user interface – dummy-proof the site navigation
When it comes to interface design, It really is the little things.. A basic user interface includes familiar UI elements, proactive user navigation and accessible features. Familiar UI elements can include a checkout feature or icons and logos to quickly identify product categories, the intuitive elements cut down on browsing time for the user and makes them less likely to exit the page from frustration.
To understand what it means for navigation to be proactive, we shall use an e-commerce site for example. A florist is intending to sell bouquets for Valentine's day and upon clicking on the site link, a pop-up for V-day bouquets immediately appears on the landing page. For users who are then looking for V-day flowers, it hastens their process of browsing the catalogue for one.
Providing solutions to simple problems that users might face increases its accessibility and friendliness. For example, if an e-commerce site is retailing products to international consumers, it would be prudent to include multi-currency options on the catalogue page for convenience and transparency.

A strong content management system
Besides retailing products and services, a great business site educates their consumers about industry standards and practices. Although this is still not a widely adapted practice, sites with better conversion rates feature a robust content page with a well-maintained content management system. Some of the commonly used systems for content management include Wix, WordPress and Squarespace.
They are intuitive to work with and can handle heavy article loads featuring images, gifs and videos. Flagship brand magazines with an online presence are usually subscribed to their services and lean heavily on digital content for advertising revenue. For a content creator, the layout of the content management system is what makes or break the frequency of content updates as systems with overly complex or tedious functions can make it difficult to upload new stories, essentially creating a bottleneck for the user. Different content management systems ultimately offer different features, price-points and extensibility.

Regular content updates can keep returning users engaged and help the site to improve its ranking on search engines. Not only does this contribute to SEO hits, value-added content is a great way to build brand awareness. Delivering value-added content should not only be for refreshing the news pile but seek to educate potential clients on product/ service knowledge.
More importantly, kick starting a new site with a solid content strategy sets a strong precedent for users to click on links they find on social media platforms that directs them to the page. It is common for businesses these days to generate sales through content marketing, as adding value in a knowledge based economy discerns you from your competitors especially in industries with homogenous products.

Well optimised for socials
Social media optimisation is a very real phenomenon in the realm of digital marketing. One viral post could do a lot for quarterly sales and boost brand engagement. More importantly, keeping up with the user after they leave the site is essential in forming brand association and trust. Businesses that understand the power of leveraging on social media platforms are well positioned for digital marketing.
For example, e-commerce sites featuring product images that are linked to their socials could garner a wide following that would be kept up to date on the latest product launches. This following could account for a proportion of revenue generated and collate useful data on market trends as well as understanding the motivations of a user's purchase. Connecting the site with Instagram, Facebook or even LinkedIn provides a more coherent narrative that adds to the brand perception and

Very often, businesses maintain a professional image of the brand by using loaded industry terms and a polished outlook on its mission statement. This might have worked the last 30 years or so but the demographic that holds the largest purchasing power in the market now resides with millennials who are looking for authenticity. Expressing themselves creatively by endorsing brands that they find can best represent their best selves is a priority before opening their wallets. It definitely resonates with this group when brand sites make an effort to show the quirks and perks of the team in the 'about' page. Personalizing from business to consumer is about humanizing the experience, showing that a platform is dedicated to improve someone's quality of life simply because the problem was once faced by the founders themselves. Tried and tested solutions enjoyed by users also provide great testimonials that enhance trust with first-time customers.
Is the design an evergreen concept?
Ever had the unfortunate experience of clicking on a site that resembles Myspace from 2008? That is what not to do when designing a website that aims to tide through the ages. Some badly designed websites would feature fragments of a HTML script but others would feature tacky dropdown menus or elements from 2003 Microsoft Windows days. Instead, aim for a clean, slick and classic layout that features an evergreen colour palette. Colours are great when used correctly as it can accurately represent the vibes the brand is supposed to be associated with and create perceptions among users that makes it easier to identify with.

What is the call to action?
This is the part where conversion rates matter, if the site's ROI is aiming for a 50% conversion rate, then all the strategizing that has gone into site planning should end off with a call to action.
Whether it is a call for sales purchase or an offer for a free trial/promotion, getting the prospect to leave their contact information is step one to pursuing a lead. Inciting the consumer's desire to associate with the brand is a key strategy in employing marketing psychology, however, to create associations, avoid cliche hard selling methods and tacky sales pitches.
The aim is to attract enough leads so that they form a recurring customer base, never resort to sales techniques that downplay the value being offered by the brand.