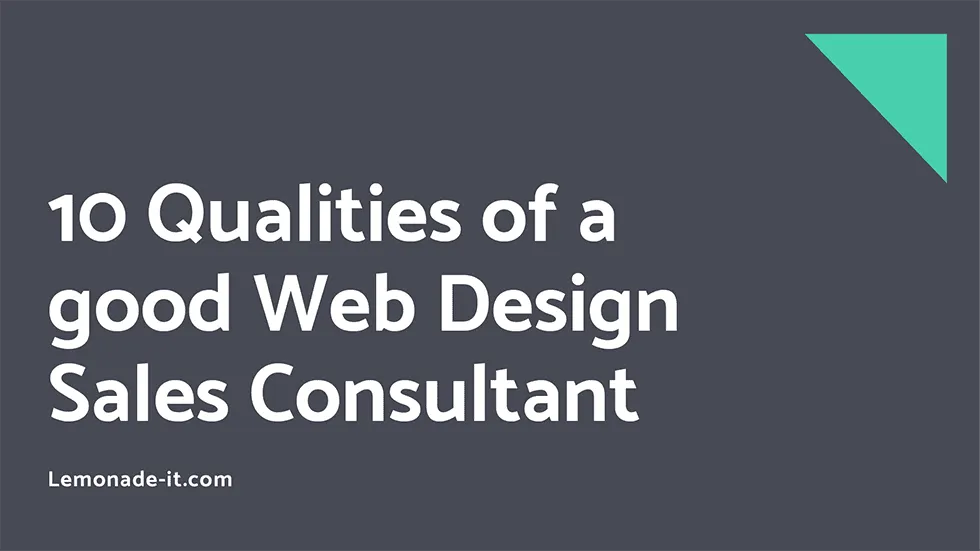 Designing a professional site doesn't have to be tricky
A web-design sales consultant like any other sales professionals are here to assist clients in troubleshooting needs for their businesses.One might have heard of terms such as an account or project manager but their job scopes relatively revolve around the same stratospheres of consultancy. 
At the heart of it all, a consultant's duty banks heavily on servicing the clients and managing of projects from conception to delivery. In the process, the consultant provides insights and executes expectations according to the client brief. 
In a professional web design agency, a sales consultant is the main point of contact between the clients and the rest of the team and so it is vital that the consultant understands every nook and cranny of the site building process. Here are 10 qualities a good web design sales consultant should have.

Extensive portfolio of projects
Experience counts in web design and although it seems like a given to expect the sales consultant to have an extensive portfolio, it is important to dive into the specifics of their work experience.
Check if the consultant has worked on a variety of projects ranging from fast-moving consumer goods industries such as e-commerce to micro-sites for brand management purposes. An experienced consultant should have taken on at least five or more sites within the same industry and utilise the skills and knowledge from previous projects to work on current assignments.
A wealth of work experience not only gives the client the security to know that they're working with a trusted professional, it also gives one a good indication of the consultant's work ethic and how they have handled managing several projects at once. He/she may not be a great multi-tasker, but a great consultant should have the ability to compartmentalize and pay detailed attention to every aspect of the project. They should be showing up with their A-game.

Familiar with online marketing tools and trends
SEO optimisation and Google analytics are the basic know-hows in online marketing, the consultant should understand the ins and outs of these tools required to optimise the site.
SEO optimisation is a skill that is used by the content writer to increase the ranking of the site on search engines. 
It works when the search engine picks up on commonly searched terms, and the words with the highest number of hits are ranked highly on its pages.  It is important for a site to rank well on a major search engine such as Google as it proportionately affects the amount of traffic the site attracts. 
The higher the site ranks, the more traffic it is likely to receive as users would click on the links most convenient to them. Google analytics is a free tool that online marketing professionals use to review the analytics their site collects, be it the amount of traffic or the number of clicks on a certain article link. This information tells them directly what their readers are interested in and should give a clearer direction for certain web features or content.
Extensive knowledge of high conversion rate sites
To put it simply, a site with a high conversion rate is one that draws plenty of traffic to the site or the site's landing page. In general, the conversion is supposed to hit a desired KPI that the client has set, and with a desired KPI, the site is able to generate quality leads for a satisfactory ROI. 
A good consultant would be able to identify the elements that make up a site with high conversion rates and would instinctively avoid features that do not. The first element of a high conversion rate site is a site with an impressive landing page. A great landing page makes use of sticky content that captures the reader's attention for a sustained period of time.
Marketing a product or service in a knowledge-based industry has to add value in order for it to turn into successful sales leads. Great content coupled with sticky durations on a site provides great analytics to eventually woo advertisers and your consultant should advice you accordingly.

Transparency in making sales
Did you know that on Amazon, products rated with a 4.2 – 4.5 sells much better than a product rated with a score of 5? In an era where information is available at our fingertips, there isn't a need to sugarcoat the truth.
All sales professionals have a KPI to hit, so expect a couple of elevator pitches about a latest service or product. However, a great sales consultant knows exactly what to pitch and doesn't rely on hard-selling of features or plug-ins that are unnecessary for the client's project, they are focused on building healthy long-term working relationships.
From the first site consultation to the last, they should be transparent in breaking down costs and pre-empting the client when an invoice is due. As the consultant is required to know the client's budget constraints, they should never place the client in an uncomfortable position by blindsiding clients with monetary decisions without sufficient communication.

Understands client priorities when developing a site
Every project has a different objective, whether it is to spread brand awareness on a microsite or generate sales from an e-commerce project, there would usually be KPIs to hit. Communication with the client is essential as it outlines their needs for a site and some of the milestones they plan to achieve in the long-term. The devil is in the details and a good sales consultant would never skim through the minute details or rush through a task without aligning objectives. The sales consultant should be providing solutions at every turn of the project and take initiative to fill in gaps for businesses
Extensive knowledge of latest site updates and tailors to client's needs efficiently
A good web design sales consultant is thorough when going through the thought process of conceptualising the site's features with the client. Do they understand how back-end access works?
Is the web-designer starting with a CSS page or HTML set-up? What are some of the most sought after user interface elements? The sales consultant should stay updated on web design news, technology and relevant online marketing features. Being pro-active in suggesting such upgrades is a bonus for the site's success.
They have to ask specific questions in order for expectations to translate successfully and prevent any hiccups in the programming process. The consultant should be telling the story of the client's business accurately and that should reflect on the user experience when doing a run-down of the site's soft-launch. Most importantly, a good consultant is constantly ticking boxes off the to-do list, they walk the talk and never over promise.

Great interpersonal skills
Besides the required technical knowledge, an efficient web design sales consultant would have the required social skills to get around assignments. It is a given that most working professionals have a decent level of interpersonal skills but it is more essential in a web design sales consultant.
The consultant is the main point-of-contact between clients and the site building team and in order to successfully translate expectations from the clients to said team, it requires a good amount of tact and tenacity to get things done.

Familiarity with each stage of the site programming process
A site requires roughly seven stages of development before it is ready to be launched. 
The first and foremost stage requires an initial consultation with the consultant on what the site and the site's objective is supposed to be. 
This is followed by research on similar sites and web design aesthetics before the consultant proposes them to the client. Upon approval, the site assembly begins by writing back-end codes and content for all pages of the site. The site has to undergo rigorous debugging and testing of conversion rates before the client reviews it for the soft launch. 
When the site is finally launched, it is still maintained by the team at the web design agency to ensure that the content is up-to date and there are no glitching or security threats that could cause hiccups in the user experience. The maintenance provided by most web-agencies are offered as part of their web building packages.

You trust them with making decisions
Occasionally, there are clients who just started digitalising their businesses and have gaps to fill regarding their decision making process, the sales consultant is there to help with their expertise and confidence derived from working on similar projects. At Lemonade, our in-house sales consultant Jena would be familiar with that.
"Clients trust experts like us to provide them with solid suggestions and add value in digitalising their businesses, especially in making decisions for newly established firms."
Passionate about web design
The saying goes that if you love your job, you won't have to work a day in your life. A passionate sales consultant definitely helps make the job more fulfilling and better at servicing clients. Most sales consultants tend to job-hop within industries, bringing with them subpar knowledge and lukewarm interest in the product or service they're selling. Sourcing for a passionate sales consultant is not rocket science, in fact, when a professional is genuinely interested in a field, it is possible to identify their curious demeanour.
At Lemonade, many of our early clients started as a passion project and we have grown tremendously from there. In these challenging times, we're doing all we can to assist clients in digitalising their business to generate growth. We care about your business.